October 2017. Ivy attends the AMCA Nationals in Ohio and picks up four new titles! She now adds CGC, CGCA and CGCU to the pot, the equivalent of our Good Citizen scheme, as well and TKN - Novice Trick Dog! Kizzy's Mom also proved she can produce some amazing pups by qualifying for her ROMWDX - Way to go Lucy!
August 2017. We took Tyler north to Scotland for the Scottish Kennel Club championship show under judge Delores Montgomery. Tyler did fantastically well, winning the Open Dog class then going on to be awarded the Dog CC and ultimately Best of Breed! We are obviously over the moon with our result!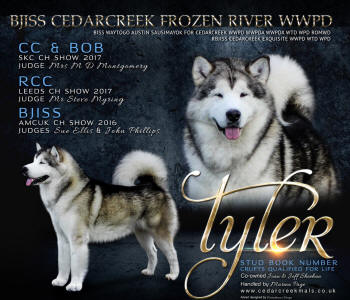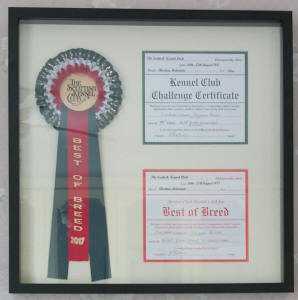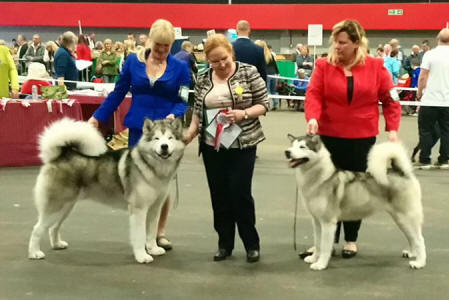 August 2017. A long trip to Wales where Tyler took his place in the Open Dog class for the first time and was awarded Reserve by judge Pauline Luxmoore-Ball at the Welsh Kennel Club championship show.
July 2017. We had a fantastic day at Leeds championship show, when judge Steve Myring awarded Tyler a first place in the Limit Dog class and then the Reserve Dog CC!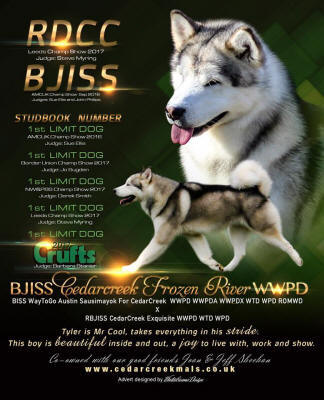 July 2017. A long weekend away in Malvern where Tyler won the Limit Dog class under judge Derek Smith and the following day took part in the AMCUK open show where he was awarded 2nd in Limit Dog by judge Barry Blunden.
July 2017. Tyler is awarded a 3rd place in Limit Dog under judge Robin Searle at the East Of England championship show.
June 2017. A visit to a very wet Blackpool championship show sees the judge Noel Melling award Tyler a 2nd place in the Limit Dog class.
June 2017. Tyler wins the Limit Dog class at the Border Union championship show under breed specialist Jo Sugden.
May 2017. Keith Nathan awards Tyler a 2nd place in the Limit Dog class at the Birmingham National dog show.
April 2017. Tyler is placed 3rd in the Limit Dog class at WELKS championship show under judge Jeff Luscott.
March 12th 2017. Tyler attends Crufts and wins the Post Graduate Dog class, winning out of that class at just 23 months. Our thanks to the judge Barbara Stanier.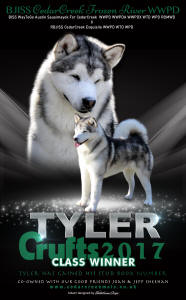 March 5th 2017. Ivy got a new agility title today - NFP, which I believe is Novice Fast Preferred. Fabulous work Jen and Ivy!
March 5th 2017. Womble's son Hunter pulls the highest percentage at the latest Eastleigh weight pull, equalling the highest weight but losing out on time.
February 14th 2017. We got confirmation of Tyler's WWPD - Working Weight Pull Dog from the Alaskan Malamute Club of America.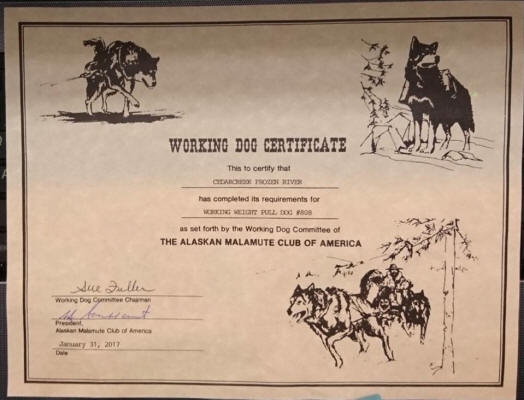 February 12th 2017. Mason completes the requirements for his WTD - Working Team Dog title at Allerton. That gives him the grand name of Amaqqut Harnessed Power WWPD, WPDA, WTD
December 28th 2016. Kizzy gains her 2nd qualifier for Level 4 Rally Obedience at FIT Dogs.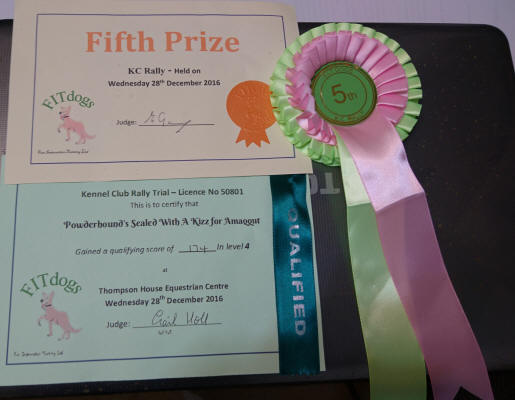 October 29th 2016. Tyler wins the Post Graduate Dog class at Midland Counties championship show under judge Andrew Brace.
October 26th 2016. Ivy is at the AMCA Nationals in Denver, Colorado where she pulls the highest percentage at the weight pull, pulling 2372lbs for 32.94 times her body weight. Amazing news!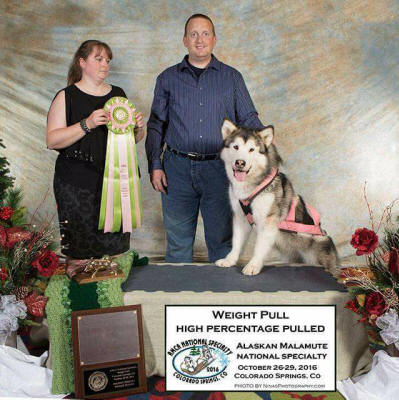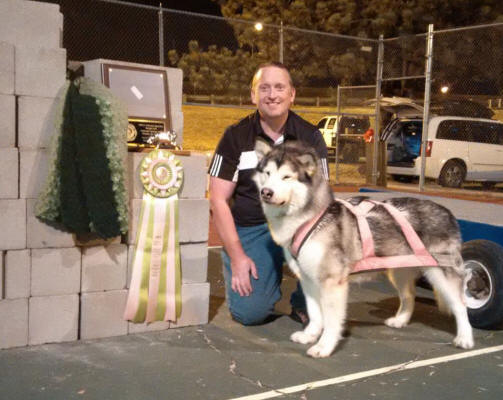 October 24th 2016. Ivy wins her class at the Regional Weight Pull in Denver.
October 9th 2016. Vienna gets her 4th excellent leg at the first weight pull of the season, handled by her best friend Mandy.
September 29th 2016. Tyler is placed 2nd in Post Graduate Dog under judge Roger Cruden at Driffield championship show
September 24th 2016. Tyler wins 1st in Limit Dog under judge Sue Ellis at the AMCUK championship show, gaining his stud book number. He then challenges his sister to win BEST JUNIOR IN SPECIALTY SHOW, being judged by both Sue Ellis and John Phillips.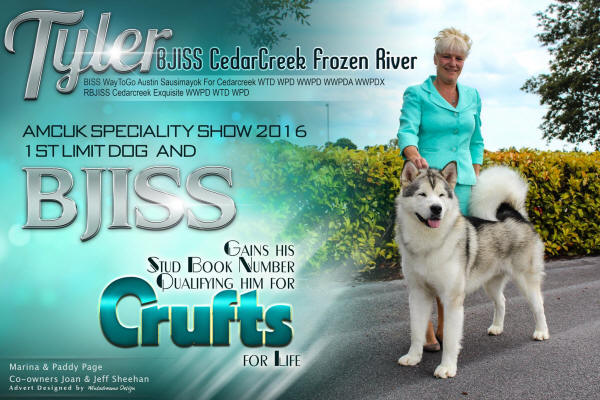 September 17th 2016. Tyler is 3rd in the Post Graduate Dog class under judge Tan Nagrecha at Darlington championship show
August 28th 2016. Tyler comes 2nd in Post Graduate Dog under judge Terry Munro at the Scottish Kennel Club championship show
August 13th 2016. Tyler comes 2nd in Limit Dog under judge Richard Kinsey at Bournemouth championship show
August 8th 2016. Tyler comes Reserve at Paignton championship show under judge Lorraine Bolton
July 22nd 2016. Tyler wins the Post Graduate Dog class under judge Anne Hardy at Leeds championship show
July 8th 2016. Tyler comes 2nd in Post Graduate Dog under judge David Cavill at East of England championship show
June 26th 2016. Tyler comes 2nd in Post Graduate Dog at Blackpool championship show under judge Christina Chapman
June 19th 2016. Joan attends the Canadian Eskimo Dog Club of GB breed seminar and passes the hands-on judging assessment.
June 18th 2016. Tyler wins the Post Graduate Dog class at Border Union championship show under judge Kath Howarth.
June 16th 2016. Just 3 days after the loss of her brother, Porsche decided to join him across Rainbow Bridge. It was such a shock and we fought so hard to keep you here with us, we're just so devastated that you couldn't stay. We love you and miss you both so much.
June 13th 2016. Today our hearts broke at the loss of Womble. We can't quite believe he left us so soon, he was the life and soul of the household and it's just so quiet without him.
May 30th 2016. Womble becomes a grandad! His daughter Xhanxi gives birth to 4 beautiful puppies.
May 29th 2016. Tyler wins the Novice Dog class at Bath championship show under judge Barrie Croft.
May 14th 2016. Joan attended a breed seminar at the Leonberger Association and passed her hands-on judging assessment.
May 8th 2016. Joan and Kizzy attended the AMCUK Rescue fun day where Kizzy did some Rally Obedience demonstrations and met some of the malamutes who came along for the day.
May 7th 2016. Joan had the honour of judging the AMCUK open show. Following the show, the Working Malamute Of The Year Award certificates were given out and Kizzy was awarded 2nd place weight pull bitch.
May 6th 2016. Tyler comes 2nd in Undergraduate class at the National Dog Show under judge Frank Kane.
April 24th 2016. Tyler is awarded VHC in Junior Dog at WELKS under judge Dave Killilea.
April 16th 2016. At the last weight pull for the season, Kizzy pulls the highest weight for a bitch once again and Tyler enters his first competition, achieving his first WWPD leg. At the award presentation after the pull, Kizzy wins the 1st place trophy for the 81-100lbs class and the salver for highest weight pulled by a bitch for the 2nd year running.
April 3rd 2016. Kizzy managed to gain her first qualifying round at level 3 at the latest Rally Obedience competition.
March 27th 2016. Kizzy once again pulls highest weight for a bitch.
March 13th 2016. Tyler attends Crufts under judge Sue Smith where he comes 3rd in Junior Class, qualifying him for Crufts 2017.
March 5th 2016. Kizzy pulls highest weight for a bitch and comes 2nd in her class and highest percentage.
February 13th 2016. Kizzy wins her class and gets highest pull for a bitch
January 17th 2016. Kizzy and Vienna come 1st and 2nd in the 81-100lbs class at the latest weight pull. Tyler takes to the chute in the novice class and does very well!
December 28th 2015. Kizzy successfully gained the final qualifying score for her Rally Obedience Level 2 title at FIT Dogs Rally Competition.
December 2015. Kizzy once again succeeded in pulling the top weight for a bitch at the latest weight pull.
December 20th 2015. Another of Womble's kids, Hunter, pulled the final leg of his WWPD at the Eastleigh weight pull, the third Womblet to get a working title!
December 12th 2015. Tyler was placed 2nd in the Puppy Dog class in a large class at the LKA championship show.
November 29th 2015. At the latest Allerton weight pull, Kizzy pulled the highest weight and the highest percentage! Womblet Xhanxi pulled the final leg of her WWPD title.
November 2015. I went out to the US for the AMCA National Specialty and to catch up with Ivy and extended family. The week was amazing, giving me the opportunity to see Ivy compete in agility, weight pull, rally obedience and strut around the ring! We are incredibly proud of Ivy who completed her Rally Excellent title and then at the end of show banquet we were honoured to have Ivy awarded the VAM (Versatile Alaskan Malamute) title and the AAAM (All Around Alaskan Malamute) title. Ivy is the first UK bred AAAM title holder and we couldn't be any prouder of her achievements!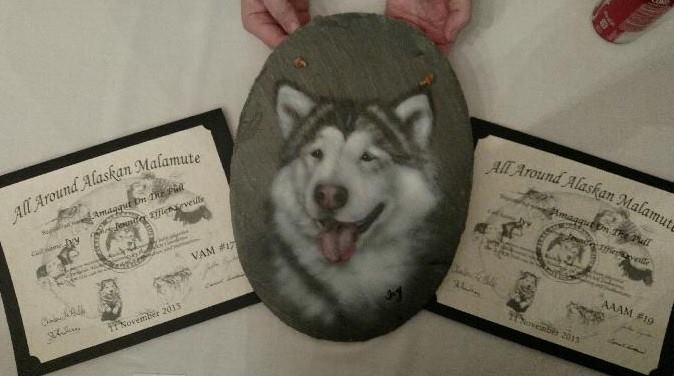 October 23rd 2015. News from the US where Ivy has claimed another agility title, this time her first at Open level! She can now add OJP (Open Jumpers Preferred) to the list. What great teamwork between her and Jen, as always we're incredibly proud of this achievement.
October 12th 2015. Vienna has been out and about with Mason for the last few weekends, culminating in another Advanced leg for her in the Lake District. Thanks to Mandy and Adam for taking her along and for this great photo!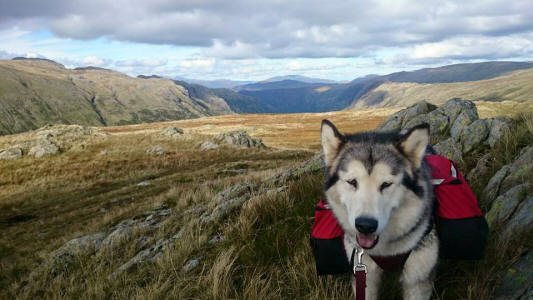 October 9th 2015. Tyler enters the show ring, ably handled by our friend Janine and qualifies for Crufts from both Minor Puppy Dog and Puppy Dog classes! His 3 siblings Orlando, Vegas and Dixie all qualify too so it's a great family occasion. Thanks to Louise for the photos.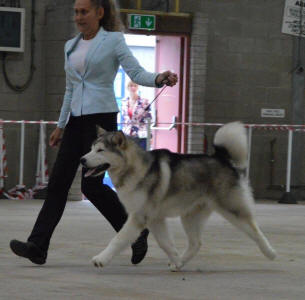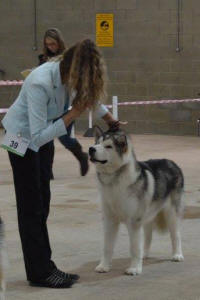 August 17th 2015. Today our hearts were broken as we had to say goodbye to Kodi. He was a dog who taught me so much about the breed, his stamina and willingness to please will stay with me always, as will his cheeky character, the twinkle in his eye and his huge smile. We love you, we miss you, until we meet again xx
July 21st 2015. Today we have heard from the US where the 2014 Alaskan Malamute Club of America final performance standings have been announced. We are incredibly proud of Ivy who has been awarded 6th place in Rally Novice and in agility she was awarded 3rd place in Novice Standard and 2nd place in Novice Jumpers With Weaves!
July 12th 2015. Ivy spent the weekend showing and we are incredibly proud to say that she has closed her UKC Champion award, winning a Best Of Breed and Group 2! As always, we thank Jen and George for the time and effort they put into our girl. Woo-Hoo, Champion Ivy!!!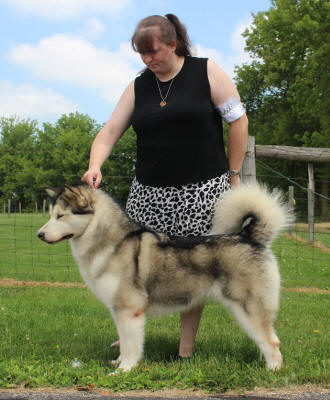 July 3rd - 5th 2015. Ivy got a qualifying leg in her first try at an Open Jumpers Agility course with a clear round and a first place! She then narrowly missed out on a Q the second day before getting a second qualifier on the third day.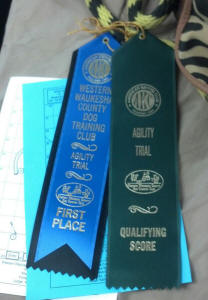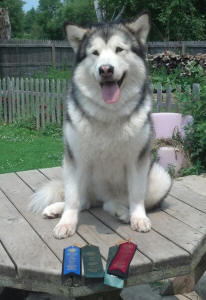 May 30th 2015. We are joined by a new bundle of fluff! Tyler, or Cedarcreek Frozen River to give him his posh name, has come to stay. He is bred by our good friends Marina and Paddy Page and will be living here with us while Marina shows him once he's big enough.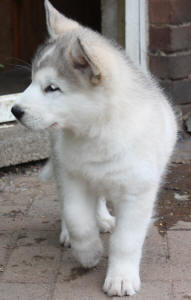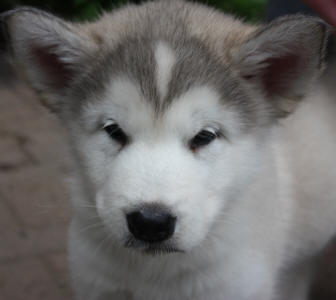 May 23rd - 25th 2015. Mason and Vienna went off for a trip with Mandy and Adam in the Cairngorms where they both carried 30% of their body weight over 40 miles. Mason has now completed the requirements for his WPDA title, our 3rd home bred Advanced title holder!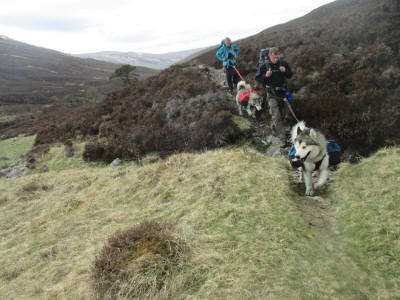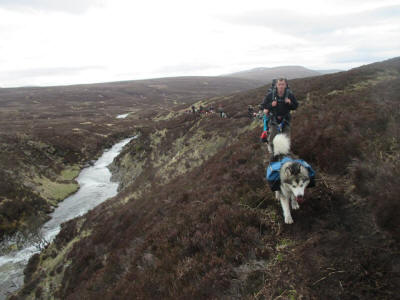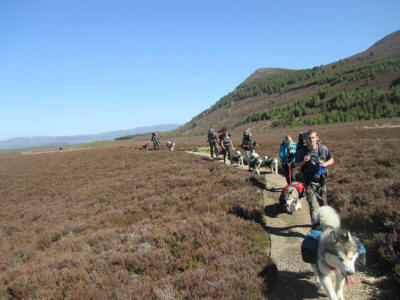 May 3rd 2015. Kizzy went with me to help out at the AMCUK Rescue Fun Day where she did some "meet and greet" and showed her fellow Malamutes how to do some simple Rally Obedience. She took part in the fun show and came 2nd in prettiest bitch and then we decided to try for the Good Citizen Bronze Award which she passed!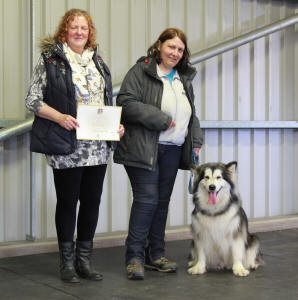 Meanwhile, over in Wisconsin, Ivy successfully achieved her AKC Rally Advance title in 3 straight days! This gives her all the elements to have achieved her VAM awarded by the Alaskan Malamute Club of America for dogs who have achieved advanced titles in working and obedience disciplines. We are so very proud of Ivy!
April 26th 2015. The Working Malamute Of The Year Awards were announced at the AMCUK AGM. Kizzy is top weight pull bitch 2014/15 and Womble is 4th weight pull dog 2014/15. Kizzy has done amazingly in her first full competitive season!
April 18th/19th 2015. The weightpull season has finished and Womble was awarded the 1st place trophy for the 101lb+ class whilst Kizzy was awarded two trophies - one for 1st place in the 81-100lbs class and the other for highest weight pulled by opposite sex. Womble's daughter Quin won the trophy for 3rd place in 41-60lbs class. Meanwhile, over in Wisconsin, Ivy finished her weightpull season with the trophy for 2nd in her class. Mercedes finished 7th in her class and Vienna, who tipped between two classes which affected her championship, came 11th and 19th in those two classes. Finally, Mason finished 6th in the 81-100lbs class. The weekend also saw Womble's daughters Xhanxi get the 3rd leg of her WWPD, Willow get the 2nd leg of her WTD and our Mason completes the news by getting the 3rd leg of his WTD.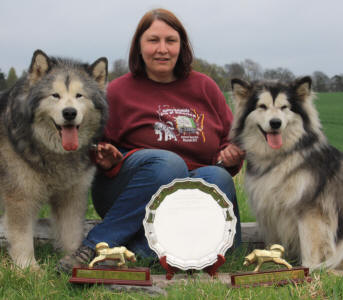 April 12th 2015. Ivy adds another title by achieving her U-AG1 agility title.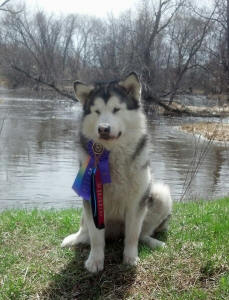 April 3rd-6th 2015. The Easter weekend was busy for the family. Firstly, Ivy gained a new personal best in the latest weight pull of 3,580 lbs, Mason went backpacking in the Lake District, covering 40 miles for his first WPDX leg and finally Kizzy got the final qualifying leg for her Rally Obedience Level 1 title - the first Malamute in the UK to do so.
March 29th 2015. The final championship pull of the season and Kizzy concludes the championship for 2014/15 by winning the 81-100 lbs class and also the highest weight pulled by opposite sex. Womble wins the 101lbs+ class for the second year in a row. His daughter Quin has won the 3rd place trophy for the 41-60 lbs class, making it a good year at Allerton. Meanwhile, over in the US Ivy also does us proud by coming 2nd in the 61-80lbs class of the Alaskan Malamute Club of Wisconsin championship, only missing first place due to her season. What a great year we've had.
March 21st/22nd 2015. Mandy and Adam took Vienna and Mason to the Lake District for an overnight backpack where Vienna gained her 2nd and 3rd WPD legs.
March 15th 2015. Vienna completes her first WPD leg doing 11 miles around Allerton Park accompanied by Mandy whilst Adam took Mason around on the scooter to gain his 2nd WTD leg.
February 28th 2015. Fantastic news from Wisconsin where Ivy closed her WWPDX title with a pull of 2470lbs in just over 15 seconds! Our first home bred Excellent title holder! Thank you Jen and George for everything you do with Ivy.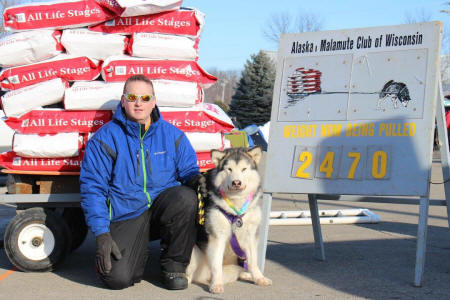 February 21st 2015. Vienna has a sleepover and completes a 9 mile backpack with Mandy, Adam and Mason up Ingleborough (728m high).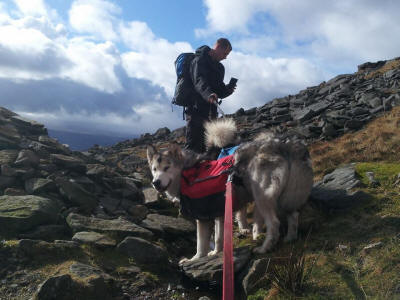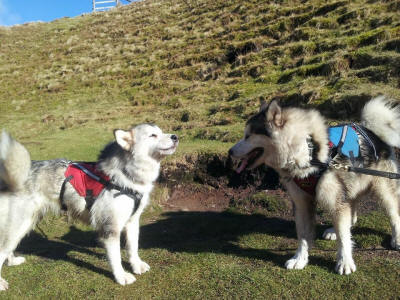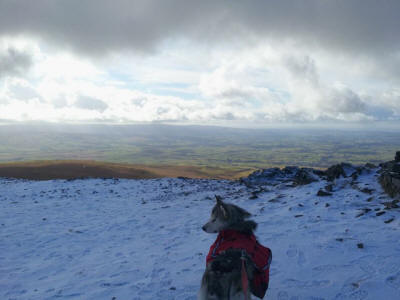 February 14th 2015. Womble pulls highest weight at the latest Allerton event and Kizzy pulls highest weight for opposite sex.
December 29th 2014. We completed the year embarking on a new activity. Kizzy was entered into her first Rally Obedience Trial where she did us proud by gaining a Qualifying round in Level 1 and then going on to gain an Excellent Qualifier in Level 2.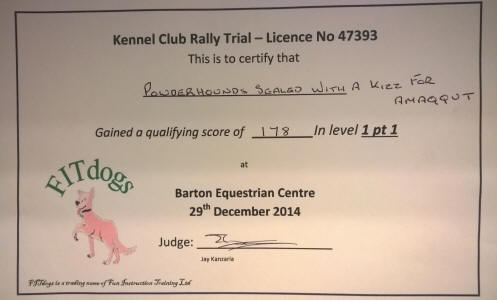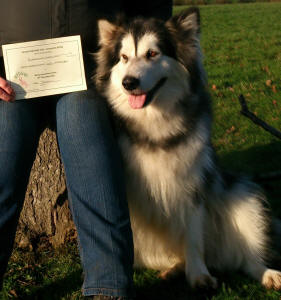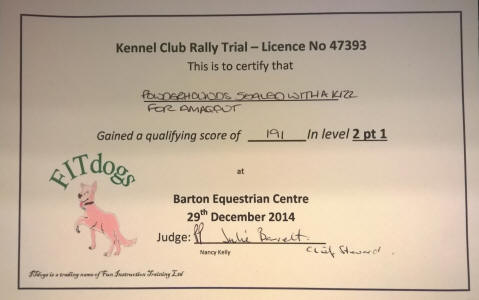 December 6th/7th 2014. Incredible news from Wisconsin USA where Ivy completed her weight pull advanced title on Saturday along with her 4th Excellent leg by pulling over 2,600lbs, followed on Sunday by completing her Rally Novice title too!
November 30th 2014. Kizzy completes her WWPDX title in just 9 competitions! She joins the long list of excellent title holders from the Powderhound kennel. Womble managed to win the latest weight pull, getting Most Weight Pulled with 2200lbs. Xhanxi, one of the Womblets, gained her first WWPD leg.
November 16th 2014. At the latest weight pull, Kizzy manages to gain the final leg of her WWPDA title and Womble's daughter Quin completed her WWPD title.
November 4th 2014. Ivy continues to bring home the prizes! At the AMCA National Specialty in San Diego, California, she completed another agility title, adding NAP to her name.
October 25th 2014. Ivy manages another qualifying leg towards her Novice Agility Preferred title - just one more to go! Meanwhile, back in the UK, Vienna is placed VHC at Midland Counties championship show.
October 19th 2014. There seems to be no stopping Ivy who completed her WPD title!
October 12th 2014. The first weight pull of the new season saw Womble pull 2400lbs to come 2nd in his class, just pipped to the post and Vienna managed 1700lbs. Mercedes smashed her personal best and pulled 1800lbs to gain her 1st X leg and then Kizzy pulled 2400lbs, winning her class, winning highest weight by opposite sex and gaining the UK BITCH RECORD!
October 11th 2014. Ivy added another title to her collection, gaining her U-RO1 UKC RALLY TITLE.
September 28th 2014. Mason spent the day in Cumbria completing his WPD title, our first home bred backpacking title!
September 14th 2014. We had a great "family" day out at Darlington championship show where Mason strutted his stuff and won Limit Dog, gaining his stud book number. Not to be outdone, Xhanxi, one of the Womblets, decided to match his achievement by winning Limit Bitch and gaining her stud book number too! Quinn wasn't going to be outdone and won Post Graduate Bitch.
August 24th 2014. Mason goes one better than last year and wins BEST IN SHOW at the AMWA fun show, Salisbury.
July 4th/5th/6th 2014. Fabulous news from Wisconsin where Ivy took part in her first agility trials over 3 days and successfully qualified in one Novice Advanced class and then went on to gain a NEW AGILITY TITLE!! by gaining 3 qualifying scores in Jumpers With Weaves classes! We are obviously delighted!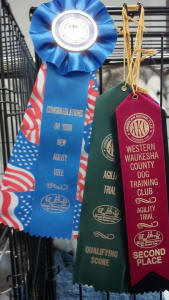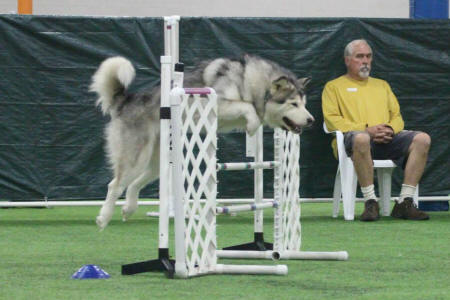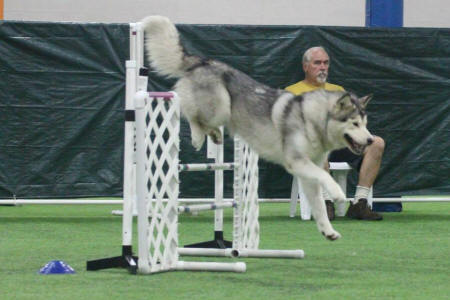 April 26th 2014. The final pull of the season and Kizzy was the star of the day, winning her weight class and most weight pulled by opposite sex equalling the UK record for a bitch at 2300lbs! Womble pulled 2300lbs but the smell of the end of season BBQ was too much of a lure. Porsche joined us for her first pull since before she had pups and had some fun while her girls were out of action due to seasons. Mason also did fantastically by pulling 2000lbs and getting his first X leg. At the presentation for the Allerton Park championship for 2013/14, Womble won the trophy for 1st in the 100lbs class, while Vienna won the trophy for 3rd in the 81-100lbs class in her first season!
Meanwhile, over in the US, Ivy gains the final leg of her WTD title along with Kizzy's Mum Lucy and her Dad Monty!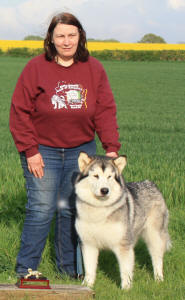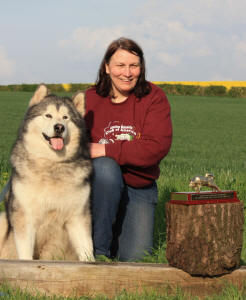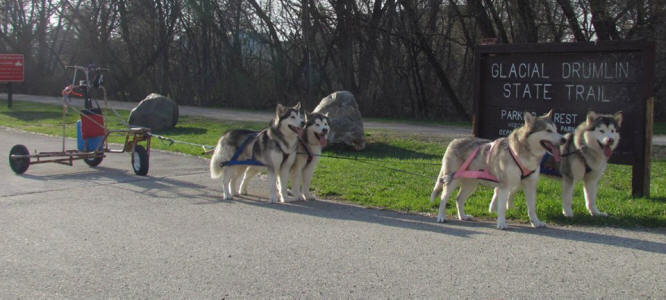 March 29/30th 2014. Porsche had a weekend away with Mason and his family in the Lake District where both managed to succeed in gaining another leg towards their WPD titles. Just one more to go for both of them! We also had news from the US that all our latest titles have been confirmed.
March 6th 2014. It was Mason and Vienna's first time at Crufts and they didn't disappoint! Mason was 3rd in Yearling Dog, handled by Mandy at her first Crufts too! Vienna managed to come 4th in Yearling Bitch despite being slightly unhappy at her surroundings. The Womblets Xhanxi and Quinn did well too! Xhanxi was completely out of coat but managed to get 3rd in her class and Quinn got placed twice with a class win and a 3rd place!
February 22nd 2014. WOW! Not sure of another word that sums up today! "No Pressure Saturday" gave us everything we hoped for and more! I think the dogs were pleased to get a dry and bright day, there were some incredible performances at the latest weight pull. Our first title of the day was courtesy of Kizzy (Powderhounds Sealed With A Kizz for Amaqqut) who got the final leg of her WWPD title but she wasn't finished - she went on to come 2nd in her class, pulling 1900 lbs, and gained her first WWPDX leg. Our second title of the day came courtesy of Mercedes (Amaqqut Breaking Trail) who also gained the final leg of her WWPD title, pulling 1500 lbs. By default, the second title also gave us our third title by awarding Porsche (Hawkam Lucky Break WWPD WTD) her ROMWD by being her 4th pup with a working title and more than that, the 3rd generation Hawkam dog with a ROMWD, a first in the UK! And finally but certainly the cherry on the cake, our fourth title of the day arrived courtesy of Vienna (Amaqqut Leading The Pack) who got the final leg of her WWPDA and our first advanced title for our home bred litter. Womble (Hawkam Leading the Trail via Amaqqut WWPDX WTD) pulled 2400lbs in his class but came 3rd showing the level of performance today! His daughter Quin got her first WWPD leg too.
January 19th 2014. Another fabulous weightpull where Kizzy and Mercedes both earn the 3rd leg of the WWPD titles and Vienna gained her 4th WWPDA leg and 2nd WWPDX leg, coming 2nd in her class with a 200lb pull. Womble finished on 2100lbs and came 2nd in his class.
January 18th 2014. Today we set off to Manchester Championship show where Womble was placed 3rd in Veteran Dog and Vienna was placed 2nd in Post Graduate Bitch, judged by Richard Kinsey.
December 21st 2013. We ended the year with a fantastic weight pull. Kizzy pulled 1300lbs to get her 2nd WWPD leg and Mercedes pulled 1200lbs to also get that 2nd leg. Vienna then excelled herself by pulling 2100lbs to win her class, get top weight pulled by opposite sex and has also taken the top weight for a bitch so far this season! Womble decided his niece wasn't going to beat him and pulled 2300lbs to win Most Weight Pulled. What a brilliant day!
December 7th 2013. Today we got news from the US where Ivy became our 3rd working title holder by completing her WWPD with a pull of 2210lbs.
December 1st 2013. Our first Amaqqut working titles! Both Vienna and Mason completed the requirements for their WWPD titles. We also put Mercedes and Kizzy into competition and they both managed to pull enough for the first legs of their titles, such a great day!
November 17th 2013. We had a great day at the weightpull with Womble pulling 2,500lbs to set a new personal best! Vienna carried on showing what she can do by pulling 1,800lbs again for her 3rd WWPD leg and 2nd WWPDA leg before we once again withdrew her. Mercedes and Kizzy both managed to pull to the 1,000lbs Novice limit without help or baiting, so I think it's time to try them in competition! Mason pulled really well for Adam, gaining his 3rd WWPD leg and finally Willow, sired by Womble, got her 1st WWPD leg.
October 20th 2013. The first weightpull of the season sees Womble win top weight pulled with a pull of 2300lbs. Vienna amazes us by pulling 1800lbs to gain her 2nd WWPD leg and 1st WWPDA leg! Kizzy and Mercedes both do really well in the novice class - a great day for us.
October 2013. Joan visits Wisconsin to attend the AMCA National Specialty and to catch up with Ivy who introduced her two babies. Our first Grandpups!
September 28th 2013. Mason gains VHC at the AMCUK Championship Show.
August 2013. Mason wins RBIS at the AMWA fun weekend. Well done Mandy and Adam!
July 26th 2013. Mason wins 3rd place at Leeds Championship Show, qualifying him for Crufts 2014.
July 15th 2013. Womble attends the AMCUK Open Show and comes away with the trophy for Best Veteran In Show!
July 6th 2013. Today Tika left us to join Kai across the bridge. It would appear that life without him was too hard for her. We miss her, we miss them both.
June 30th 2013. Kizzy has a day out on her 2nd birthday, visiting Windsor Championship Show where she comes Reserve in Yearling Bitch under judge Simon Luxmoore.
June 23rd 2013. Vienna goes to Blackpool Championship Show where she comes 2nd in the Junior Bitch class under judge Andrew Brace.
June 22nd 2013. Today our hearts were broken by the death of Kai. We miss him so much but he's out of pain now.
May 2013. Vienna attends the Scottish Kennel Club championship show and wind the Junior Bitch class, qualifying her for Crufts 2014.
May 2013. At the AMCUK open show Vienna gets her first rosette by coming 4th in the Junior Rescue Stakes. Meanwhile, Womble gets a 3rd in Open Dog, 2nd in Working Dog and 1st in Stud Dog (ably assisted by Xhanxi and Quin).
April 2013. Porsche's pups are a year old, where does the time go? To celebrate they start to work towards their working titles! Vienna and Mason get the first leg to their WWPD titles and over in the US Ivy gets the first leg to her WTD title and two legs towards her WWPD title which I was very lucky to witness in person during a whistlestop visit to Wisconsin.
April 2013. Womble completes the 2012/13 weight pull season by coming 2nd in the 100lbs+ class and getting a new personal best of 2400lbs. Vienna also has a go at the novice class, showing her natural ability in the chute!
April 2013. Vienna finally takes to the ring at a couple of open shows. We're very proud of how she behaved and looking forward to the future.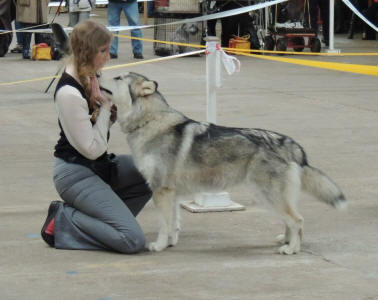 December 2012. Ivy has a weekend of showing in the US. She manages 4 class wins, a Best Of Sex, and 2 Reserves!
November 2012. Womble again attends the 2nd and 3rd pulls handled by Alanna. He manages to pull a personal best of 2300lbs and pulled the 2400lbs half way before running out of steam!
October 2012. Womble attends the new season of the weightpulls alone and is handled by our friend Alanna. The first pull of the season sees him withdrawn at 1000lbs due to the need to go home and rest for his owners!
October 2012. Due to a change in circumstances we had to take one of our pups back but she didn't hang around for long and we saw her take to the skies on her way to a new life in Wisconsin USA with Kizzy's breeders Jen and George.
August 30th 2012. Our year grinds to a halt as Joan breaks her leg whilst out walking the dogs! We'll be back soon!
July 14th 2012. Womble gains the Reserve Challenge Certificate at Working & Pastoral Breeds Championship Show.
June 29th 2012. Kizzy qualifies for Crufts 2013 at Windsor Championship Show under judge Robin Searle!
June 2012. The puppies have left for their new homes, we wish them well.
May 2012. The puppies are growing up and if the size of the feet are anything to go by, they will have the good bone of their parents! We have female puppies available from this litter, please contact us for details.
April 8th 2012. Today the pack was joined by 8 new babies! Amaqqut's first litter! Details on the litter page.
April 1st 2012. Womble manages to exceed expectations and equal his personal best of 2200lbs to win the 81-100lbs class and secure 1st place in the championship, his 2nd time winning this trophy! On the flip side, today saw us retire Kodi from competitive pulling. He too has won first place in the championship twice, once in the 81-100lbs class and again in the 101lbs+ class. He loves pulling, so we will allow him to continue in a fun capacity at lower weights for as long as he wants to.
March 18th 2012. Today Womble ran 10.5 miles in single lead to start his Working Lead Dog title. Kizzy ran in wheel alongside Alanna's Lucie to start their Working Team Dog titles. I'd like to say they are tired....
March 17th 2012. At last! Womble wins his class at the weight pull and gains his final leg for the WWPDX title.
March 10th 2012. Womble wins 2nd place in Limit Dog at CRUFTS 2012 out of 17 dogs.
February 19th 2012. At Ashton Under Lyne open show, Womble won Best AVNSC and then went on to win Group 1 under judge Roger Cruden.
February 8th 2012. Today we "took delivery" of a very special cargo. We welcome Kizzy to our pack and thank Jen and George at Powderhounds for entrusting this beautiful girl into our care.
January 28th 2012. We took a trip to Huddersfield & District Canine Society open show with Womble who won first place in the open class, then went on to win Best of Breed and Working Group 1.
January 15th 2012. First weight pull of the new year and Womble won the 81-100lbs class with a pull of 2100lbs. Unfortunately he once again decided to keep us waiting for that final leg towards his WWPDX! There's always next time apparently!!!
December/January 2012. Joan spent the New Year with Marina from Cedarcreek Kennels travelling to Poland to collect Marina's new puppy Austin. We managed to spend time with good friend Kirsten Lindner of Tshajka Kennels in Germany on the way and then joined Jana Wisniewska of Sausimayok Kennels in Poland and her friends for the New Year celebrations.
December 2011. A weekend at Allerton saw the weight pull on the Saturday followed by a backpack for Womble and his pal Lucie and Porsche, gaining them their first WPD legs. Thanks to Jo and Alanna for taking them!
November 2011. Two weight pulls this month and all the dogs are getting back into the swing of things Womble winning the 81-100lbs class on the 27th. Joan also went into education mode and passed both the hands on breed assessment for the Japanese Akita Inu and the Alaskan Malamute (having put it off for about 10 years!)
October 2011. The weight pull season finally starts! Let's hope we can get that final leg on Womble's excellent title. October also saw Joan jet off to the United States for the AMCA Nationals. A whole week of Malamutes, showing, agility, obedience, rally and weight pulling. Joan also took part in the Judge's education seminar and hands on workshop. Thanks to Jen Effler and George Leveille, Andrea and Matt Sautbine and many others for such a great welcome.
September 2011. Womble wins 1st in Limit dog at Darlington Championship Show and then goes Reserve Best of Sex.
August 2011. Porsche finally comes into season and goes off on holiday with her beau! Fingers are firmly crossed.
June 2011. At Blackpool Championship show, Womble won 1st place in Limit Dog under breed specialist John Phillips.
May 2011. At the Birmingham National Dog Show, Womble's kids Logan, Xhanxi and Quinn all qualified for Crufts 2012. Womble starts back in the show ring hoping to get those other two CCs! Kodi manages a 4th place in the Veteran class of the AMCUK open show and also took part in the first Working Certificated Dog class, the trophy for which is named after Kodi and Scooby. Kodi will now be retired from the show ring.
April 16th 2011. The weight pull season finishes and despite us missing a weight pull which pretty much finished us in the Championship this year, Kodi still managed to pick up a trophy for 3rd place in the 100lbs+ class. Womble came 4th in the 81-100lbs class but excelled himself this season by getting a personal best of 2200lbs and finishing with four WWPDX legs and leaving himself just one more to get. Porsche came 8th in her class out of 23 despite missing 2 pulls this season.
April 2011. Exciting news! Womble's frozen semen is now stored in the US and is available to approved bitches!
February 12th 2011. Womble pulls 2000lbs to get his 2nd WWPDX leg.
January 16th 2011. Womble pulls 2000lbs to get his first WWPDX leg.
December 19th 2010. Kodi completes the final 10 mile trek to gain his WTD title.
October 31st 2010. Womble is a Daddy! 6 beautiful puppies were born, 2 boys and 4 girls. Surprisingly, 5 are black and white! See litter page.
October 2010. We have had it confirmed that Womble is to become a Daddy at the end of October! More details on the litter page.
September 2010. After what has seemed like an incredibly long summer, Porsche & Nemo have had a successful mating and we hope to welcome puppies into the world around the 24th November!
May 21st 2010. Womble attended the Scottish Kennel Club Championship Show where the breed specialist judge Roger Cruden awarded him Best Dog and his first CC! Not a bad way of celebrating his 4th birthday! To top it off, his litter sister Sika won Best Bitch and her 2nd CC. We are so proud of both of them.
April 18th 2010. An excellent end of season weight pull. Kodi matched his personal best of 2000lbs to come 2nd in the 100lbs+ class, Womble decided to muck about and came 5th in the 81-100lbs class with 1600lbs and Porsche pulled a personal best of 1500lbs to come 2nd in the 61-80lbs class. This was all followed by an excellent BBQ and presentation of trophies. Until next season....
April 4th 2010. Womble and Porsche complete the final leg of their Working Team dog titles, running 11 miles including a hop across to an island! Kodi completed his 3rd leg so he's not far behind. Thanks to Lou for taking the terrible two out and braving the water! and to Jonathan for teaming Kodi with Indie for the runs.
April 3rd 2010. The final Championship weight pull of the season and Kodi manages a personal best of 2000lbs! Just 4lbs lighter and it would have given him an excellent leg - less biscuits next year! Womble managed a 3rd place pulling 1700lbs and Porsche pulled a respectable 1200lbs. This means that in the Allerton Park Weightpull Chamionships 09/10, Kodi has come 2nd in the 100lbs+ class and Womble has come 2nd in the 81-100lbs class. We're so proud of the boys and of course our little Princess!
March 20th/21st 2010. At the penultimate weight pull of the season, Kodi wins the 100lbs+ class with a pull of 1800lbs and Womble comes 3rd in the 81-100lbs class pulling 1700lbs beaten only on time. Porsche managed 1000lbs before deciding she didn't like the rain! On Sunday Womble and Porsche ran another 10.5 miles to get their 3rd leg for the WTD title and Kodi ran with Indie to get his 2nd.
February 13th/14th 2010. The weight pull saw Porsche pull a personal best of 1300lbs, Womble pull 1500lbs before doing his trick of spinning in the chute and getting tangled and Kodi pulling 1800lbs (and two inches short of 1900lbs!). Sunday saw Womble and Porsche complete the second 10.5 miles towards their WTD titles and Kodi ran with his new friend Indie to gain his first leg.
January 17th 2010. First weight pull of the year and Womble won his class, then Kodi showed he is finally back on form and went on to win his class and pull the highest weight of the day - 1800lbs.
December 20th 2009. Womble and Porsche succeed in trekking 10.5 miles around Allerton Park to gain the first leg of their WTD titles.
Photos Sara Barstow
December 2009. Welcome to our new design website. We hope you enjoy your visit. Please take time to sign our guest book.
© Designed by Amaqqut Malamutes. No part of this website may be reproduced without permission.